Home backup power.
Comfort. Security. Convenience.
Your family's comfort and safety is Generac's number one priority.
That's why our home standby generators sense outages and turn themselves on within seconds when there's a utility power outage.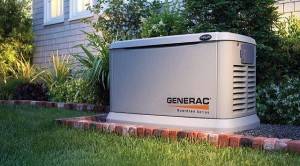 Founded in 1959, Generac was the first to engineer affordable home standby generators, along with the first engine developed specifically
for the rigors of generator use, and is now the #1 manufacturer of home backup generators. Generac manufactures the widest range of power products
in the marketplace including portable, residential, commercial and industrial generators.
Also the leading designer and manufacturer of manual and fully automatic transfer switches and accessories for backup power applications up to 50 kW.
At Generac, we protect the things that power your life by providing quality, affordable power solutions.
____________________________________________
Weather ANY Storm
with the #1 Brand in Home Standby Power
____________________________________________
Give us a call to have your Generac- Home Generator installed!
905-228-3055
Niagara Generators is an Authorized Dealer,
Service provider & Supplier of
Genuine Parts & Accessories